Established in 1999, FIT is dedicated to addressing the skills requirements of Ireland's increasingly digitalised economy. Promoting inclusion and diversity FIT consistently demonstrates that wider access to tech skills training leads to exciting career paths and quality employment opportunities for all those who have a curiosity and passion for technology.
Growing Ireland's tech talent pipeline
FIT (Fastrack into Information Technology) is a representative organisation of the technology sector committed to growing Ireland's tech talent pipeline.  Working in close collaboration with national education and training provision, national and regional development agencies and community organisations, FIT's mission is to promote an inclusive and sustainable smart economy ensuring access to in-demand tech skills for quality employment and shared prosperity, In doing so, we are maximising opportunity through technology and making technology work for all.
Through regular skills needs analysis with its industry partners, FIT determines the impact and skills employment opportunities arising from emerging technology trends and designs training programmes that enable a broad and diverse cohort of people to acquire in-demand tech skills. Designed for Further Education Training (FET) provision these programmes are delivered with the support and collaboration of Education and Training Boards (ETBs)  nationally. FIT tech programmes, while responsive to industry demands, are built in accordance with the requirements and standards of the National Qualifications Framework.
In total over 48,500 job seekers have completed FIT skills development programmes to date, of which in excess of 35,000 have secured quality employment.
National Coordinator ICT Tech Apprenticeships at NFQ Level 6
FIT is a representative organisation of the technology sector and the national Coordinating Provider of an exciting and growing suite of technical apprenticeship programmes, which include the Software Development Associate, Computer Networking Associate and Cybersecurity Apprenticeship programmes.
The adoption of the Tech Apprenticeship programme by industry has been quite phenomenal with 700+ Tech Apprentices currently placed. In keeping with the vision of the Action Plan for Apprenticeship 2021-2025, our goal is to secure 5,000 placements by 2025. Already some 250+ Corporates, SME's and Government Departments have availed of this new tech talent pipeline.
FIT Skills for a Circular Economy
With evidence suggesting the Irish economy will need to fill more than 20,000 jobs by 2023 in the circular economy, FIT in line with government strategy is actively delivering & developing multiple skills initiatives to ensure this future demand for green skills can be met.
As an industry lead organisation, FIT's skills for a circular economy training programmes result from Skills audits, programme research & skills needs analysis along with ongoing consultation with industry, education & community sectors. One example developed in collaboration with WEEE Ireland & the White Goods Association is the White Goods Field Service Technician Programme, an innovative course kickstarting a change in the electrical repair culture in Ireland and offering learners the equivalent to a level 6 QQI qualification on the National Framework of Qualifications in Ireland. Other programmes in development include Consumer Electronics & Green Buildings maintenance programmes to name but a few.
"We've made it our mission to meet the recruitment needs of the IT industry, through training, support and career opportunities for job seekers, so that they can achieve their true potential while contributing to the Irish economy."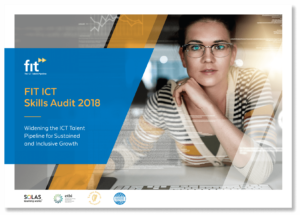 FIT ICT Skills Audit
Our 2018 ICT Skills Audit finds over 12,000 current vacancies in the sector