The 'Choose Tech' programme, supported by Salesforce, seeks to engage young people (15-20yr olds) into the exciting world of tech at an earlier stage. The programme aims to inspire young people to learn new and develop existing skills and to provide support & information around the pathways available to a tech career including pre-tech & tech apprenticeships.
Who is the programme for?
This free programme aims to address the structural under representation of socio-economically disadvantaged young people and increase diversity in the newly launched pre–tech & tech apprenticeships and the tech sector. Currently piloted in Dublin and available nationwide soon.
What does the programme involve?
FIT Career Pathways Workshops
Video learning sessions: Topics include tech roles, apprenticeships and how to get started.



70+ bite-sized modules
Students can learn online at their own pace, earn digital badges and find topics that interest them the most.
Information Packs
For Educators/leaders and Students. Packs contain: Career Roadmap Posters, Choose Tech Educators Guide, Career Guidance leaflets and Tech Apprenticeship brochures.
Near Peer Tech Engagements
Give your class/group an insight into the tech sector by meeting and learning from tech professionals. Find out what different tech roles involve and the skills needed. Virtual and/or in classroom.
There is a lot to take in. We get that. But we are here to help you at every step of the way. Organisations will be assigned an Outreach Support Manager. They will help you get registered and arrange suitable dates for the FIT workshops & near peer engagements.
Email us using the link below. Include your name, contact number and email address and your Outreach Support Manager will be in touch.
Learn new skills for a digital world
Develop and demonstrate your digital, enterprise and employability skills while building up badges that show your achievements on your CV.
The benefits for your organisation
Registering your organisation on our partners portal will give you access to all the features of the Organiser Management System which enables you to track learner progress. Once you have registered, we will contact you to organise an information pack and forthcoming FIT Career Pathways Workshops and Near Peer Engagements.
Improve your students digital literacy, skills & knowledge
Help your class/group get more confident with technology and find out what subjects they are most interested in!
Find out how to get your class/group on a certification pathway with over 70+ online modules available. They can get informed in less than 30 mins, finding what interests them the most.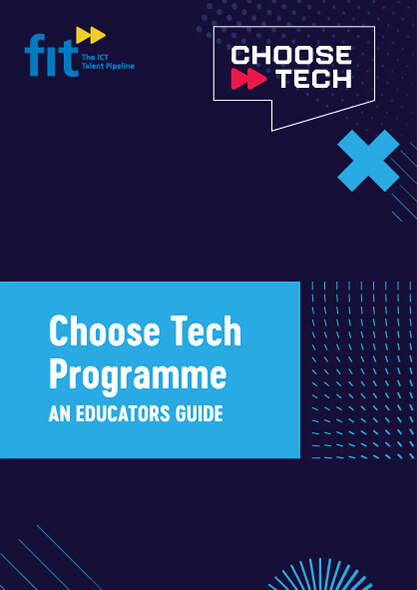 Get more confident with technology and find subjects that interest you the most. Earn digital badges and make your CV stand out in the crowd. Meet and find out from young tech professionals what working in tech is really like. Find a pathway to your future that suits you the best. To find out more about a career in tech download our brochure.
If your group meets the following criteria: 15-18 year olds in a DEIS School. 15-20 year olds in Youthreach. The group is in Dublin City or County.
Step 1
Educators and Group Leaders will need to register first. Click on the FIT unique link below. Type in your name, date of birth, email and password
 (at least 8 characters, 1 symbol, 1 number).
Step 2
Register your School/Organisation: Click on 'Organisers' (on the navigation bar at the bottom of the page). Enter the organisation or group name. Select the organisation type from the drop-down menu. Go to the 'Organiser Groups' section and press 'New Group'. Here, you can set up your class or group and provide them with a unique url link or class code.
Step 3 (url link option)
Get your students to register by providing them with your organisation's unique url. They then type in a nickname, their date of birth*, email address and create their own unique password. (*The digital age of consent in Ireland is 16 years. It is the responsibility of the school/organisation to seek permission from parent/guardian for student participation).
Step 3 (code option)
If the students don't use your unique url link they can link via your unique code. To do this they can register on www.idea.org.uk/register and then input the unique code into their profile, to connect to your organisation, by following these steps: Click on their nickname in the top right-hand corner. Select 'Edit Profile'. Type in the 'Organiser Code' and press 'Save'.
Login
When you are all registered you can login via the www.idea.org.uk site and admin users can track the progress of your group in the dashboard tab.
Register your group and track their progress
Please ensure that you have read the instructions above first
'Digital pathways' badges
Paths to a career in tech
If you are interested in learning more about working in technology, you'll find a roadmap in your information pack (sent to your organisation) with some of the routes to the workforce. You can download a copy of it here, or check out our paths to the workforce in the links below.