Born, raised and living in Dublin, Niamh Vianney Muldoon is an International woman! Her team's role is all about Information Security enablement seeing DocuSign employees, customers and partners around the globe to make informed risk-based decisions on how to protect Critical Information Assets and Systems. She speaks to DocuSign Customers and Partners daily providing them with assurance on DocuSign Trust promise.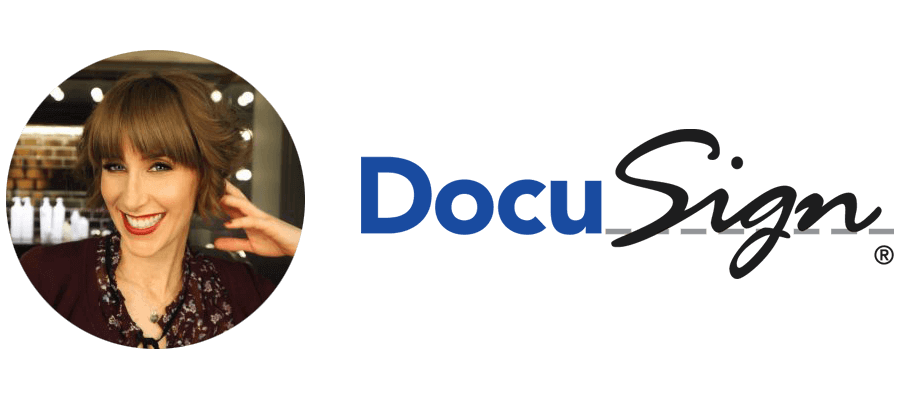 Niamh put 'Women in Ireland' on the global international map for Information Security back in 2004 when she qualified as Ireland's youngest CISSP-Certified Information Systems Security Professional. She was the only Irish Woman nominated in the first every Women in Technology awards in Europe in 2015 and was instrumental with her lobbying to bring the Women in Technology awards to Ireland in 2018 where DocuSign Sponsored the first ever Irish 'Security Champion Award' presented by Niamh.


Niamh is very proud to be Irish, while operating globally she is constantly thinking and acting locally within the Irish and EU communities.


According to data from the 2017 Global Information Security Workforce Study (GISWS), women comprise only 11% of the information security workforce – a number that has remained steady since 2013. The study also found that women in cyber security have higher levels of education than men, but fewer hold senior-level positions, and they earn less money.

Source (ISC)


Niamh is frequently asked by women at various international conferences how best to start and/or advance their careers in Information Security.


What has been the secret to her success?
She quickly clarifies what success means to her – "Being able to close my eyes at night knowing I did my best that day in a professional and personal life. Success and ambition are different. I enjoy my daily success and understand how it is linked my ambition and career goal".


Niamh acknowledges that she is very ambitious, knowing this ambition was instilled in her from early childhood. Raised by her parents alongside her 4 brothers and given the same opportunities from both an education and sporting perspective, the healthy sibling rivalry has always been there driving her ambition. Niamh shares that her mother once told her that she was sometimes even harder on her as she knew it would stand to her in life as a female.


Niamh is very much focused on the present and takes every day as it comes. For Niamh, flexibility is key to reaching her goal, something she attributes to parenthood and putting her son Crean first while balance life and work priorities.


Niamh "keeps her finger on the pulse" as a Global Information Security Leader, and as well as her commitment to providing her DocuSign team with the opportunity to do "best work of their career at DocuSign". For International Woman's Day Niamh has shared with us her top 5 tips on becoming a Global Information Security Thought Leader.


Tip 1: Take your Information Security passion and make it happen
Niamh says; "It is true this is my defacto quote but it is the need for Information Security and Cyber Security expertise is still growing."


New research by ISC places the estimate at just under 3 million – 2.93 million to be exact.


Niamh says: "I work with ISC sitting on the global scholarship review panel and board. I also work with individuals providing mentorship and coaching. A common thread is lack of understanding of the various career roles within Information Security which can subsequently lead to misalignment when following security passion to make their career happen.


Take time to understand the domains and disciplines within Information Security and Cyber security. How they relate to various roles and competencies required to operate in the role. Generally speaking there are 3 main disciplines within the Information Security discipline all based on risk assessment, technical security based on engineering and regulatory compliance governance, covering controls and control frameworks. Examples of roles include but are not limited to: Security Engineer, Security Risk Analyst, Security Network Engineer, Security Operations Analyst, Security Awareness Analyst and/or Security Program Manager. Research and speak to professionals that are operating within these disciplines and roles within. Ask them to identify what they believe are core competencies and skillset at security, business and professional level that it takes to be successful in this role. Shortlist 3-5 roles that you may be interested in pursuing".


Tip 2: Find a Mentor
Find a mentor, someone you trust to provide you with positive, objective and constructive feedback.


Present to them your Information Security Career role options 3-5 and rationalize why you think your "security career passion will happen in this role".
Work with your mentor to define your career path in this role but also define and develop your "plan B" option. What you will tend to find is that the competencies and skill set will be similar for your first 2 career options. Your selected mentor should be someone available to meet you regularly (quarterly). This is essential when starting your career or developing a progress career plan you need to keep focus on it. Your mentor will help keep you focused.


Tip 3: Set your Goal
Set your career goal but be flexible in your approach. Balance your career goal setting with educational and hands-on delivery experiences. Ensure your career goals focus on development of Technical, Business and Professional competencies. Remember the industry is constantly growing and opportunities are always presenting themselves so a comprehensive development plan will enable you and position you well to go for opportunities as they arrive. Remember they are a variety of ways to reach your career goal including but not limited to full and part-time educational options along with on the job training via apprenticeship programs. There is no one career path model to fit all and remember the only one you are in competition to reach your career goal is yourself! You are your own council. Your mentor is there to support you.


Niamh believes the FIT Cybersecurity Tech Apprenticeship is a great program to reach your career goal in a stable and steady fashion.


The FIT Cybersecurity Apprenticeship is the third in a series that have been developed by FIT and delivered in partnership with Educating and Training Boards. The initial two in software development and network engineering are already up and running in Dublin and Cork and expanding rapidly.


For more information on this innovative programme see here.


Tip 4: Build your Network
The Information Security industry is still small across the globe. There are many global not-for- profit organizations and forums such as (ISC)2, OWASP, GDS CISO Summits and EWF to name a few that provide great knowledge share, development and networking opportunities for those in the profession. It is through this network that international and global opportunities to collaborate together arise. Global collaboration is critical to success of the industry to fight against cybercrime. I recommend that every Information Security professional should attend some type of industry networking event, at least quarterly.


Tip 5: Have Ambassadors
Working internationally may mean that you are not physically based in the same office as your key stakeholder communities and senior leadership teams. Different time-zones also present additional challenges. To ensure your leadership voice is heard in a consistent and constant fashion, I recommend establishing an ambassador community throughout your global operating environment to support you and your team's overall function. I have defined and implemented different types of ambassador's networks in the 4 different global organizations in which I have worked. The formal role structure have been instrumental in my team's success, while the informal one-to-one ambassador network has helped me on an individual level to learn, develop and grow.


Niamh hopes that her Tips on International Women's Day have been beneficial and encourages you "take your passion and make it happen as an International Women Leader. Niamh concludes by quoting Mary Robinson: "Everybody Matters" – Mná na hÉireann