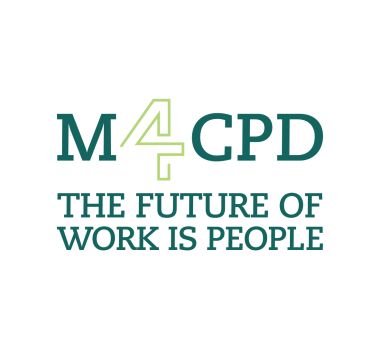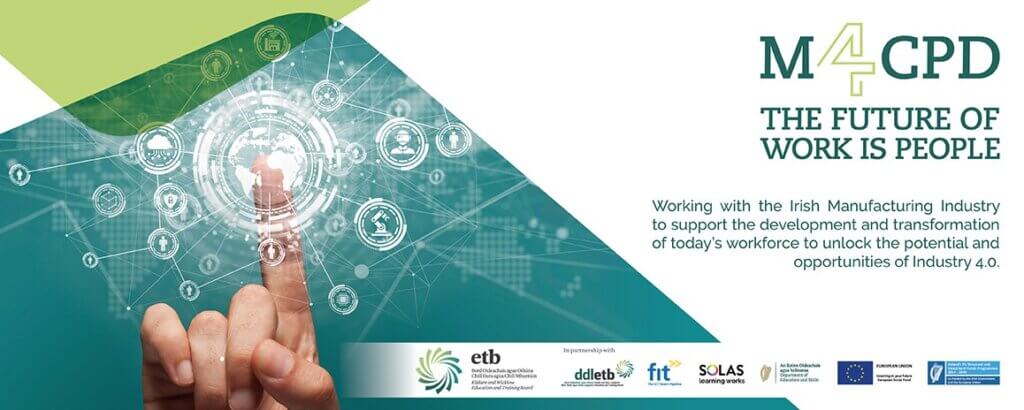 The Fourth Industrial Revolution is poised to transform the world-of-work at pace, through the integration of digital technologies such as AI, robotics/cognitive automation, analytics etc. These Industry 4.0 technologies are likely to create more jobs than they displace, currently evidenced by the tight manufacturing labour market conditions globally and escalating in Ireland.
The rapid digitalisation of manufacturing is resulting in a pressing mismatch between available workers and the skills necessary for current and emerging job opportunities. Critical to responding to the challenge is understanding how today's roles are morphing into new jobs necessitating the redefinition of skills portfolios and career pathways that keep pace.
M4CPD is an innovative project lead by KWETB working in partnership with DDLETB and FIT and funded by SOLAS with the specific aim to inform and assist the advanced manufacturing sectors of the Irish economy to gear-up its workforce and entrants for tomorrows workplace to work alongside advanced connected technologies and automation. The programme is focused on the delivery of advanced manufacturing modules and awards (NFQ Level 5 and Level 6), in a flexible format (onsite/offsite) that supports the upskilling of shop-floor technicians and teams in "must-have" skills and competences necessary to operate in a digitalised workplace.
Significantly, the project will also endeavour to give currency to prior knowledge and experience by incorporating RPL (Recognition of Prior Learning) as an integral component upskilling process. As a pilot/demonstration project, it will attempt to signpost new and emerging career paths and professions to employers, incumbents and new entrants into the sector by addressing key requirements such as: industry skills need analysis, curriculum development, training programme implementation, validation and QA. Adopting an action-research approach the project on completion will present a blue-print for the escalation of training to meet the digitalisation training demands of the manufacturing sectors nationally via the Skills to Advance programme.
Specifically, M4CPD will:
1. Establish an advanced manufacturing sector work skills advisory group – involving employers, education/training providers and regional/local development agencies to counsel on the design and delivery of necessary employee training and development arising from the application of Industry 4.0 technologies.
2. Develop eight new Industry 4.0 accredited curricula (NFQ Level 5& 6), in modular flexible format, involving 120 employees; in a manner that illustrates capacity for mainstreaming.
3. Introduce Recognition of Prior Learning (RPL) procedures adhering to the principles set out in The Action Plan for Education 2017 (DES), giving credentials to employee skills and competencies already acquired on-the-job as result of enterprise innovation.
4. In accordance with accreditation requirements deliver Q/A / Validation standards and procedures for the newly devised programmes in manner that satisfy the requirement of this pilot project and facilitate mainstream delivery.
5. All the project outcomes will be mainstreamed by the partners to support the upskilling of advanced manufacturing employees nationally there by ensuring job security and economic growth.
In culmination, M4-CPD will provide strategic insight and foresight for regional and national education and training authorities to devise better informed policies and strategies both at industrial (R&D, innovation, SME development) and FET (skills development programmes) levels. This translates into better framed local and national socio-economic and skills development strategies and enhanced learning opportunities for those interested in progressing careers in Ireland critically important advance manufacturing sector.